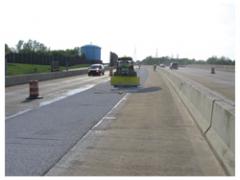 The word is spreading among public works officials, bridge engineers and everyday drivers alike: Cargill Deicing Technology's SafeLane ice prevention overlay is a promising solution to help make roads and bridges safer during winter driving conditions. SafeLane Ice Prevention Overlay combines the pavement sealing and renewal characteristics of an epoxy overlay with a unique aggregate that seals roadbeds and stores anti-icing chemicals to virtually eliminate frost and ice from ever forming.
SafeLane Ice Prevention Overlay stores liquid deicer and automatically releases it when needed. Unlike other anti-icing methods such as fixed spray systems, SafeLane Ice Prevention Overlay allows a single application of deicer to treat multiple frost events. Traditional anti-icing programs require that deicing chemicals be applied at every frost event, making budgeting and forecasting difficult. In these cases, bridge structures may already have frost formation and become dangerous to traffic.
By preventing ice before it forms, SafeLane Ice Prevention Overlay can limit expensive call-outs, overtime and, ultimately, accidents. And by using up to 75% less deicing chemical, it reduces the effect deicing has on the environment.