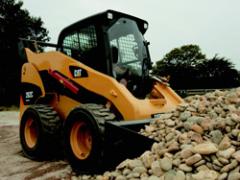 The Swiss Army knife of the construction equipment industry, the hallmark of the skid steer is versatility. The same machine could be outfitted with an auger attachment one day, a bucket the next day and a fork the day after that.
Purchasing options within the skid-steer market are as versatile as the machine's range of functions, but Caterpillar has extended the possibilities of the skid steer even further with the introduction of its C-Series skid-steer loaders (Circle 909).
"I feel we are really leading the industry in technology right now," Kent Pellegrini, Caterpillar skid-steer and multiterrain loader industry manager, told ROADS & BRIDGES.
With increased horsepower on all the C-Series machines, up to the 90-hp 272C, Caterpillar is setting a new performance standard in the industry. The C-Series also boasts industry-leading breakout force, according to Caterpillar.
Taking the lead in the area of visibility, Caterpillar claims to be the only skid-steer manufacturer that can provide visibility under the loader arm, allowing the operator to see obstacles before running into them, Pellegrini said.
While Caterpillar claims a number of industry-first features in the C-Series line, the most innovative in the area of operator comfort is the pressurized cab and air-ride seat option, according to Pellegrini. It provides an exceptional ride as well as a cleaner and quieter operator environment—"almost like riding in your car," Pellegrini said.
Increasing fuel efficiency, the C-Series features a temperature-sensing demand fan, which automatically turns off when the machine cools down, so the engine doesn't have to run as hard.
Part of what makes the C-Series an ideal option is the ability to customize. Based on the buyer's budget, they can choose what options are practical at the time of purchase but add on features such as the speed-sensitive ride control or pattern control changer down the road, according to Pellegrini.
"We live in a world of uncertainty . . . and if we allow the owner to choose and pick what they'd like, it gives them more mobility with price," Pellegrini said.
Providing innovative design and versatile purchasing options, Caterpillar's C-Series skid-steer loaders are well on their way to trying to revolutionize the skid-steer standard.