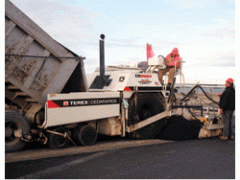 Terex Roadbuilding debuted its new combination material transfer vehicle and paver at ConExpo-Con/Agg2005. Cr662RM RoadMix material transfer vehicle (MTV) is the first and only MTV to re-blend 100% of the asphalt, according to Terex, significantly reducing the chance for particle and thermal segregation.
The machine meets all the state requirements for continuous non-contact interstate paving. Weighing in at 50,800 lb featuring a rubber-track drive system that evenly distributes the weight over a larger area, RoadMix has a relatively low ground contact pressure, enabling this MTV to be used on base as well as top courses.
The RoadMix MTV is built around Terex's field-proven Remix Anti-Segregation System. Material dumped into the 16.7 ton receiving hopper is immediately re-blended by two sets of two counter-rotating augers.
Terex Roadbuilding also Debuted the CR552RX Remix paver. This high-Production, mainline paver features a powerful 240-hp turbo-charged diesel engine to handle full-width paving applications. With three creed models to choose from the CR522RX offers paving widths from 10 to 30 ft.