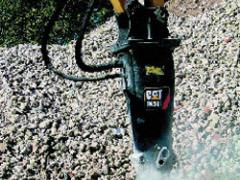 The introduction of the new Caterpillar H35Ds and H45Ds hydraulic hammers means that compact equipment and mini-excavator owners now have a full range of innovative hydraulic hammers designed by Caterpillar.
The H45Ds replaces the H45/H45s hammers. It is in the 300 ft-lb class, up from the 200 ft-lb of its predecessors, and provides 2,300 blows per minute (bpm). The H35Ds is a new offering that completes a full range of Caterpillar small hydraulic hammers. It is in the 150 ft-lb class and provides 2,900 bpm.
In its family of small hydraulic hammers, Caterpillar now offers a range of energy classes from 150 ft-lb to 700 ft-lb. The new hammers contain nearly 50% fewer parts than the H45/H45s, which means simplified maintenance and reduced owning and operating costs.