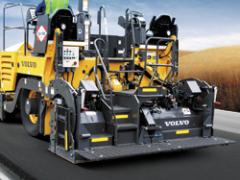 The Volvo Ultimat 200 screed was recently introduced at World of Asphalt. It joins the Volvo Omni 318 and Volvo Omni 1000 screed models to provide versatility and optimal performance to the Volvo PF6000 series of asphalt pavers.
The Volvo Ultimat 200 is designed for the PF6000 series of asphalt pavers, the new class of highway asphalt paving equipment from Volvo. The screed allows for multiple configurations on a single paver to accommodate various mix designs and paving requirements.
The Volvo Ultimat 200 is a front-mounted, vibratory screed with a standard paving width of 10 to 20 ft that makes it ideal for a variety of paving jobs.
The machine's key feature is a double extension system that allows the screed to extend a full 20 ft wide for maximum efficiency. A heavier mainframe eliminates uneven wear.
A more streamlined control system provides for single-button operations of the screed extensions, automatic slope and grade and heater elements. Its quick response to operator control allows for considerable maneuverability around obstacles.