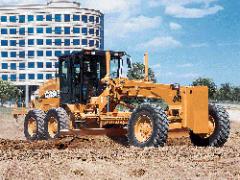 The Case 845 motor grader (Circle 903) is a clean, modern-style machine. Obstructions are minimized with hoses guarded for optimum protection, yet easily accessible. The hallmark Case sloping hood provides excellent sightlines to the rear. The cab design and front articulation joint give the operator a clear view to the circle, moldboard and tires. A powerful lighting package delivers extra visibility in dark, stormy or snowy conditions.
Rugged construction provides the strength to handle any job conditions. The rugged front A-frame drawbar and high-strength circle provide plenty of stability. The motor turns the circle up to 360° for maximum turning ability. The moldboard pitches, tilts and moves laterally to match site demands.
Optional extensions can add 2 ft to each end of the blade. The lockable, hydraulically actuated five-position saddle allows the blade to tilt up to 90° for shaping banks. The moldboard is made of high-carbon steel for long life, and its involute multiradius design cuts, mixes and rolls material off the moldboard in an effortless wave.