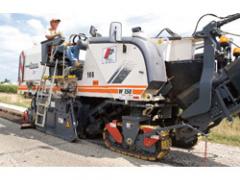 The Wirtgen KMA 220 builds on the success of its predecessor, the KMA 200, by adding a third axle to enhance the roadability of this popular portable cold-mix plant. All three air suspension axles have raising and lowering capability, as well as automatic, load-dependent all-wheel air brakes.
The KMA 220 portable cold-mixing plant from Wirtgen will mix 220 tph of cold-mix asphalt, without visible emissions and without requiring any EPA operating permits. To make foamed asphalt green mix with the KMA 220, milled reclaimed asphalt pavement (RAP), excavated road base and crushed recycled concrete aggregate (RCA) all can be incorporated up to 100% in cold green mix from the KMA 200.
The new Wirtgen W 150 is a large but compact milling machine that can optionally be fitted with milling drums of 4-ft, 4-ft 3-in. or 5-ft working width, letting the W 150 be used for a variety of different applications.
The machine's "wasp waist"—the specially shaped central part of the machine chassis—ensures that the operator has a perfect view of the milling edge, enabling him to steer the machine with pin-point precision from the individually adjustable driver's seat. This free-view concept produces better and more effective milling results without the need for time-consuming manual reworking.
The W 150 is equipped with the world's first four-fold, full-floating and height adjustment system as a standard machine feature. It also has reliable traction.