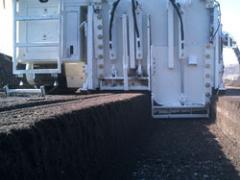 The Roadtec RX-400's 4-ft cold planer design allows the contractor to cut as narrow as 26 in. with improved evacuation of material from the cutter housing. Material evacuation is efficient enough to allow cutting depths up to 12.5 in., even in clog-prone, loose material.


The RX-400 (Circle 909) conveyor and cutter housing design allows the 26-in.-wide drum section "visibility" of the conveyor for better material flow. The unique conveyor and cutter housing design of the RX-400 solve the significant tooth and tooth holder wear problem often encountered with other designs. These problems result from poor material evacuation in the cutter housing and the fact that too much milled-up material gets churned in the housing, wearing out components.


Moreover, better material flow through the cutter housing makes operating the machine much more efficient. The RX-400 cold planer features a 325-hp Cat C9 ACERT engine and a maximum operating speed of 172 ft per minute.