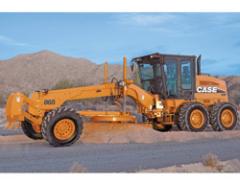 The Tier III-certified engines offered in the Case Construction Equipment 800 series motor grader line deliver a stronger throttle response at every rpm, improved cold-start capability and reduced noise. In upgrading motor graders to meet Tier III certification standards, Case took the opportunity to enhance other features on the machines. The engines on the 800 Series motor graders are electronically controlled and fueled through a high-pressure common-rail fuel-injection system. This provides responsive engine control, greater fuel efficiency and a cleaner burn.
The 845 dual-horsepower motor grader maintains the horsepower range required to meet the demands of fine-grading applications, while also providing an increase of 14% for tough conditions. The 865 variable-horsepower motor grader, the most popular machine in the Case motor grader lineup, incorporates all of the most recent enhancements to productivity while delivering an increased 205 net hp.
The largest Case motor grader, the 885, takes advantage of the fully electronically controlled Cummins engine, providing increased power while meeting Tier III certification.