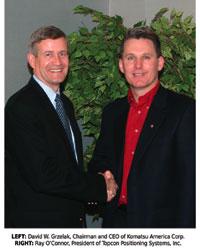 Topcon Positioning Systems, Livermore, Calif., announces a strategic alliance with Komatsu America Corp. An agreement between the two corporations was signed on Jan. 25, 2005. It specifies that Topcon will provide automated machine control systems as a purchase option on Komatsu motor graders and bulldozers. The agreement covers all Komatsu North American distributors and gives machine purchasers the option of Topcon 2-D or 3-D control systems--designed to increase earthwork productivity and accuracy.
"We are delighted to add Komatsu as another great partner in our growing list of OEM's. Komatsu's strategy for offering Topcon equipment deeply integrated with their solution along with the alliance of the Komatsu and Topcon distributors to form a unique training and support structure will insure the success for both companies," commented Ray O'Connor, president and CEO of Topcon Positioning systems Inc.
The two companies are working together to promote expanded market opportunities within their distributor networks. This arrangement creates an advantage for the customer--Topcon "on-machine" components can be ordered directly through the Komatsu distributor and "off-machine" components can be ordered from the local Topcon dealer. This program provides the customer with a complete, technically advanced solution for their machine control requirements. New integrated hydraulic kits enable Topcon products to be easily implemented on Komatsu machines at the dealer level, resulting in time savings, increased equipment availability and improved reliability.
To address customer service needs, field support will be provided by the local Komatsu and authorized Topcon distributors. The companies are working together to train contractors in the use of their control systems for multiple jobsite applications and educate them on maximizing profits with their equipment investments.