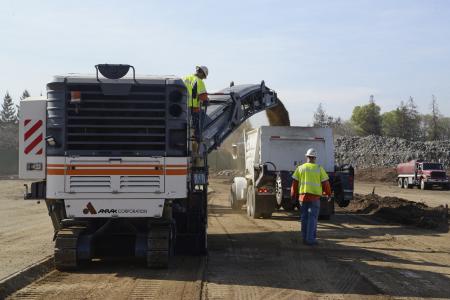 It may not have looked like it in early 2014, but in a few years a 680-acre tract in Cupertino, Calif., will be the site of a spaceship-like office building—bigger than the Pentagon—on a new corporate campus for computer industry titan Apple Inc.
 
Of advanced environmental design, the $5.5 billion future Apple corporate campus—being constructed on the former headquarters sites of Hewlett-Packard and Compaq—now requires demolition of existing structures, utility removal, relocation of mature trees and the complete excavation of acres of aged asphalt parking lots and tons of base material.
 
Handling that high-profile excavation is major California milling contractor Anrak Corp., with a W 210 with a 7-ft 3-in. drum and a new Wirtgen W 200i cold mill with a 6-ft 7-in. drum.
 
"We're taking out all the asphalt surfaces—the parking lots, all the drives, all the thoroughfares—and after that, we're removing all base down to the native dirt," said Christopher Anderson, estimator and project manager for Anrak. "Some 6.5 million sq ft of asphalt will come off this job. The asphalt varies from 2 to 3 in., and the base is anywhere from 6 to 7 in."
 
Initially, Anrak was using two cold mills, with a spare on standby. "In this phase, we are getting what we need to get done with two grinders," Anrak said. "But each phase has a different time frame, and then we will move to a different area. Before we go in, an area will have planter boxes, light poles, piles of demolition material, even mature trees. After we leave, other companies come in and pull utilities out and do dirt work. By the time everything is said and done, this will be a big, big dirt field."
 
The mills were reducing the reclaimed asphalt pavement down to minus 1⁄2-in. size, and both RAP and base were being stockpiled adjacent to the construction site.
 
As might be expected for such a cutting-edge company, the project involves "green" demolition as well as construction and architectural design. "This job has a big green footprint," Anderson said. "We have one of the most modern, environmentally sustainable 'grinder' fleets in California, and that's one of the reasons we're out here."
 
For example, the W 210 in use is equipped with a vacuum cutting system (VCS), which helps keep contaminants away from the critical parts of the cold mill. Without VCS, fine debris creates wear between moving surfaces, potentially shortening component life.
 
The VCS creates negative pressure, which pulls fine particles from inside the drum assembly into the milling machine's short conveyor channel. There, a suction hood located above the conveyor channel sucks the particles into two hoses, which extract the particulate matter directly to the long conveyor of the loading system and into the truck, reducing wear and providing an enhanced work environment.
 
In 2013 the W 210 was updated with the Tier IV interim emissions-compliant W 210i. R&B