LOOP 303—HAPPY VALLEY PARKWAY TO LAKE PLEASANT PARKWAY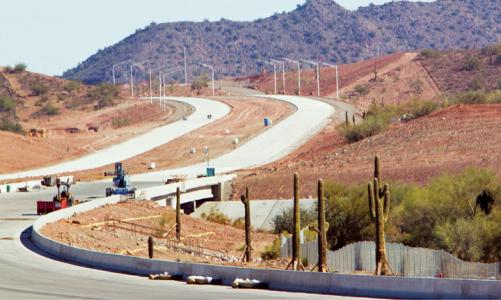 PROJECT: Loop 303—Happy Valley Parkway to Lake Pleasant Parkway
LOCATION: Peoria, Ariz.
COST: Over $100 million
LENGTH: 7.7 miles
DESIGNER: AZTEC Engineering Inc.
CONTRACTORS: Austin Bridge & Road LP, Rummel Construction Inc., Rural Electric Inc.
OWNER: Arizona DOT
Project was designed for nearly 2.5 million cu yd of excavation that included many locations that required blasting or signi? cant excavation effort. Eight bridges crossed active canals, an active ? owing groundwater recharge facility and a critical underground canal siphon. These locations required several creative access and construction strategies in order to build the bridges.