CHELSEA STREET BRIDGE REPLACEMENT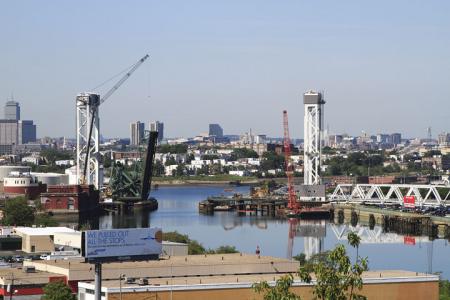 PROJECT: Chelsea Street Bridge Replacement
LOCATION: Boston, Mass.
COST: $113 million
LENGTH: 450 ft
DESIGNER: HNTB Corp.
CONTRACTOR: JF White Contracting Co.
OWNER: City of Boston
HNTB designed a constant-depth warren-type truss for the superstructure. Utilizing state-of-theart 3-D modeling of the new bridge, the designer was able to reduce the amount of structural steel required for the new lift span and produce a very ef?cient and attractive design. Tower height was a key element due to the close proximity to Logan 
Airport. To optimize the height, wire ropes were connected to the bottom chord of the truss.