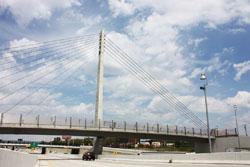 PROJECT: Bagley Pedestrian Bridge
LOCATION: Detroit, Mich.
COST: $9 million
LENGTH: 740 ft
DESIGNER: HNTB Michigan Inc.
CONTRACTOR: Walter Toebe Construction
OWNER: Michigan DOT
Two of Detroit's fastest-growing communities were not fi tting the ideal model of togetherness prior to the construction of the Bagley Bridge. Officials are hoping construction of this span will bring people together. To provide a comfort level to this community gathering place, four vertical and one lateral tuned mass dampers were installed within the steel box girder to mitigate movement from vibrations generated by pedestrian traffic.