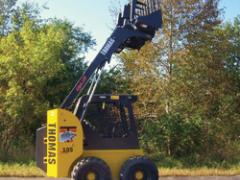 Thomas Equipment Inc., Centreville, N.B., Canada, recently introduced the 185 skid-steer loader that upgrades and replaces the Thomas 175, featuring a high-lift bucket height of more than 11 ft, an operating weight of 7,200 lb, lift capacity of 1,850 lb and more than two tons of breakout force.
The Thomas 185 is powered by a four-cylinder, 59-hp Tier III engine that meets environmental standards, moves at nearly 8 mph and features an easy-to-service universal joint.
The skid-steer loader also features two in-line hydrostatic pumps to lift, pull and hoist and a range of attachments.