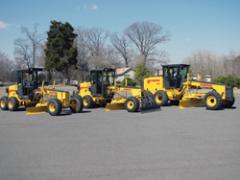 Champion Motor Graders has announced significant additions to the Champion product line.
The Production Class 133-hp, 24,000-lb C110 C and C116 C models and the introduction of the 80-hp, 12,800-lb C60 C and C66 C Series models with new front axles, similar in design to the C80 C and C86 C Series, provide an additional 6 in. of clearance and, according to the manufacturer, the tightest turning radius in the industry.
Champion C Series motor graders have a full range of blade and wheel mobility, precise and stable blade control, twin-cylinder circle turn and a wide-stance blade-lift system blade. The cab layout mirrors those found in much bigger machines, with industry-standard pedestal and levers and lots of room to go to work. Fully tested and quiet ROPS cabs with HVAC also are available. Rounding out the big feeling are Tier III emission-certified engines from Cummins and fully certified braking systems.