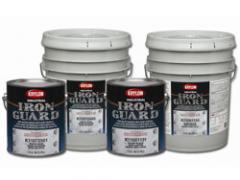 Krylon Products Group delivers a breakthrough acrylic technology in Iron Guard DTM Acrylic Enamel. Iron Guard is a high-gloss, waterborne, corrosion-resistant coating that enables a direct-to-metal application on new or clean metal without the need for a primer.
Iron Guard is a low-VOC, low-odor product that lowers overall emissions by eliminating the need for primers, thinners and clean-up solvent. It is available in 14 package colors and can be custom-tinted. It also is offered in two primers.
Iron Guard offers superior rust protection as a DTM waterborne acrylic product, with new gloss retention technology that supersedes historical expectations. Additional features include exceptional resistance to early moisture, chemicals, flash rust/early rust and corrosion, as well as fast-drying and outstanding adhesion properties.