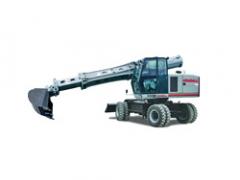 Gradall Industries Inc. has introduced the XL 4300 III hydraulic excavator. It is the only excavator in its class to offer the versatility of a tilting, telescoping boom as well as effective mobility both on and off paved surfaces. Powered by a new Detroit Diesel Mercedes engine, the XL 4300 III delivers noticeably greater bucket breakout and boom forces to increase productivity for high-performance jobs.



The XL 4300 III carrier, with a new counterweight and profile, is 9 in. shorter with a tail swing that has been reduced by 12 in., enabling the machine to work efficiently in tight quarters and on highways with minimal traffic obstruction.


The operator cab features new gauges to monitor hydraulic circuit pressures and an instrument panel switch that can shorten the training cycle.


The digging depth of the XL 4300 III is increased to 21 ft 3 in., while the boom reach at ground line is expanded to 30 ft 4 in.