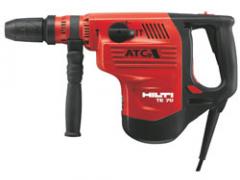 The new Hilti TE 70 and TE 70-ATC Combihammers unleash power while maintaining maximum working comfort.
With a 1,600-watt motor, the TE 70 delivers impressive power for fast drilling in various applications, including drilling in concrete, stone and masonry with TE-YX (SDS Max) bits; drilling holes for rebar dowels and anchor bolts; through-hole drilling and coring for mechanical and electrical applications; and chiseling and demolition of concrete and masonry.
For added operator protection, the TE 70-ATC features the unique Hilti Active Torque Control, which quickly shuts off power in the event the tool housing begins to rotate too quickly, which can occur if the drill bit catches, providing additional peace of mind to the user.
Built to last, the TE 70's rugged components and efficient cooling provide superior durability and the rugged, glass-fiber reinforced housing protects the tool for long life. The TE 70 also requires low contact pressure to initiate drilling and has a dampened hammering mechanism for better working comfort.
The Hilti TE-YX (SDS Max) carbide drill bit line has been upgraded to provide maximum performance. The new TE-YX drill bits feature a stronger, rebar-resistant carbide tip attachment, optimized connection end and easier-to-read markings.