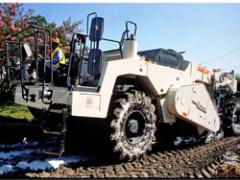 The new Wirtgen WR 2000 XL stabilizer/recycler is an updated model of the WR 2000 introduced in 2005. The WR 2000 XL adapts to North American requirements with an industry-standard 8-ft-wide drum (instead of the 6-ft 7-in. on the WR 2000) and has heavy-duty 25-mm cutter teeth. This unit also eliminates the cab found on the existing WR 2000.


The all-new WR 2000 XL (Circle 910) is a state-of-the-art, 400-hp-class stabilizer/reclaimer that gives heavy contractors and road builders a high-performance alternative to the larger WR 2400 at 563 hp and the industry-standard 670-hp WR 2500 S from Wirtgen.


In addition to dry stabilization, it stabilizes with emulsions and can be equipped with a high-capacity water pump for dry soil conditions, or cement or lime stabilization projects. These proven systems have been used on the larger WR 2500/WR 2500 S stabilizer/recyclers for years, and the WR 2000 XL incorporates 40% parts in common with its "big brothers."


Its six-cylinder OM 457 LA Mercedes engine meets EPA Tier III regulations, with 400 continuous hp. Its cutter features a V-belt drive with an automatic belt tensioner with four speeds, from 112 to 181 rpm. This feature delivers maximum horsepower to the cutter with less maintenance than older chain or hydraulic drive systems.