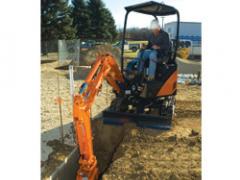 Two of the many improvements to the new Zaxis 17U-2 compact excavator, an upgrade of the Hitachi EX17U, are its adjustable-width tracks and backfill blade with foldable end sections. Using both features reduces the overall width to a mere 40 in. When extended over 50 in., the undercarriage provides excellent stability for operations. The standard quick-coupler/hydraulic attachment package makes the jobsite possibilities almost endless.
Despite the small size of the ZX17U-2, the distinctive qualities operators have come to expect from Hitachi are in place. The controls are sensitive and deft, and the operator area is comfortable. Multifunction operations mean the operator can easily execute simultaneous operations such as swinging and traveling, and maintenance is fast and simple.
In addition to the adjustable-width feature, the reduced tail-swing ZX17U-2 also boasts improved performance specs, rugged construction, more operator comfort, long service intervals and better fuel economy.
The ZX17U-2 has faster operating speeds, additional weight, increased hydraulic flow and more powerful digging forces. Travel speeds also have been increased.
A standard ROPS/FOPS three-pillar canopy provides a generous opening, easy entry and exit and virtually unobstructed visibility. Pilot controls have been repositioned on the left- and right-hand side of the operator. The new pilot levers are spaced far enough apart for the largest operator and feature wrist rests for added comfort.