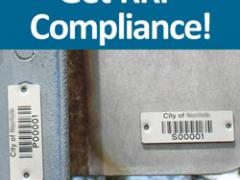 As municipalities nationwide strive to comply with the FHWA retroreflectivity requirements, many face a common obstacle –– their traffic sign assets are not adequately tracked, making it difficult to assess and manage RRF compliance.
A combination of a bar code asset tag, an accurate location tied to GPS coordinates and easy-to-use software have proven to be the keys to lower labor, material and equipments costs, and are more cost-effective than blanket replacement.
Click here to request a free Case Study and Samples.