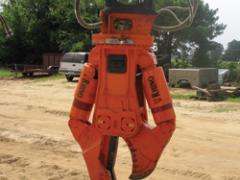 Hydraulic Attachments International has an extensive line of demolition shears to fit mini excavators to 100,000-lb excavators. They can be used on any demolition or recycling job cutting metal materials such as H-beams, pipes, bars, metal tanks and railway scrap.

The shears feature full 360° hydraulic
rotation, third-member mounting, speed valves for maximum speed of opening and closing and quick cutter replacements.