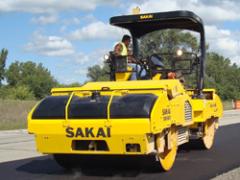 Sakai America's new SW880 high-frequency vibratory asphalt roller increases paving productivity by achieving density faster while leaving smooth finishes on all mixes, even the most challenging Superpave projects.
The SW880 offers a drum width of 79 in. and 4,000 vpm, which allows for 10 to 12 impacts per foot at 4.55 mph. Sakai's counter-rotating weight design helps achieve density at fast speeds. The front-drum eccentric weights rotate clockwise while the rear-drum weights rotate counterclockwise or vice versa depending on amplitude. This design guarantees that the forces generated by the weights move up and down. By focusing these forces into the material, the SW880 eliminates the possibility of pavement shoving, scuffing and hairline cracks.
The drums of the SW880 are machined smooth and edges are rounded for a smooth mat surface.
The SW880's power, comfort and safety also enhance productivity. The SW880 offers a powerful, yet fuel-efficient Deutz TCD 2012 L04-2V Tier III diesel engine that delivers 131 hp. The operator's station is designed with a rubber-isolated floating deck to minimize vibration to the operator, which minimizes fatigue.