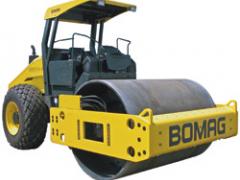 Built for the cost-conscious contractor as well as the comfort-conscious operator, the BW211-40 Series single-drum vibratory rollers introduced by BOMAG, Kewaunee, Ill., are well suited for a variety of applications and designed for efficient compaction of granular, mixed and semicohesive soils.
The BW211D-40 smooth drum roller and the BW211PD-40 padfoot roller are powered by a four-cylinder water-cooled Deutz diesel engine that meets EPA Tier III requirements, and have 22,930-lb and 25,785-lb operating weights, respectively.
Designed for simple maintenance, the rollers feature maintenance-free steering cylinder pins, travel bearings and a bolt-on articulation joint. The engine air intake is positioned high above the ground to increase filter life, and the hood opens vertically for easy access to the engine, hydraulics and all service points.
Several new features on the BW211-40 Series increase operator comfort and jobsite safety, adding a repositioned, integrated instrumentation cluster and improved ergonomics and operator sight ability.