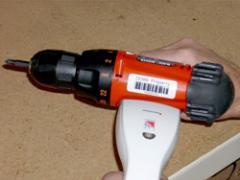 Dynamic Systems Inc., a Redmond, Wash., software developer specializing in data-collection applications for the construction and manufacturing industries, has announced the release of a low-cost tool manager, Basic Tool Manager, based on bar-code technology.
DSI provides bar-code systems to the construction and manufacturing industries, including a tool management system, a maintenance scheduler, inventory control, time and attendance and job costing. Bar-code data collection has been proven to be the most accurate and efficient method of tracking or counting items.
Basic Tool Manager is targeted at contractors who want to reduce the loss of tools and save time tracking down tools for the jobs but cannot afford the more complex systems available on the market today.
If it requires one minute to check a tool out or in, and the contractor's staff spends even 20 minutes a day searching for tools, the overhead savings is dramatic. DSI President Alison Falco said that customers see a typical payback for the system within three to four months.