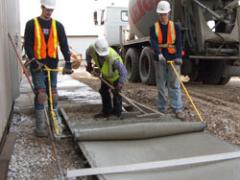 Spin Screed, manufacturer of the world's lightest weight power roller screed, has announced the Gutter Builder.
This new accessory to the Spin Screed quickly produces concrete gutters. Made especially to fit the components used with the original Spin Screed, the Gutter Builder consists of a graduated aluminum pipe that is made to spin by a heavy-duty right-angle drill. The pipe spins opposite the direction it is being advanced, forming the gutter as it causes the concrete to roll up in front of the screed. High and low spots are evened out.
The Gutter Builder can be used on stiff, low-slump concrete of only 3 in. or on a wet mix. Unlike a vibrating screed, which causes the aggregate to sink far below the surface, the Spin Screed products leave aggregate immediately below the surface, resulting in a high-quality, durable finish that is less likely to scale off when exposed to freeze-thaw conditions.