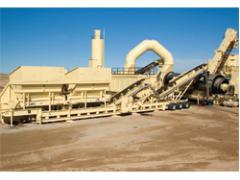 Also available from Astec is its relocatable HMA facility, designed for producers who want high-capacity production and storage with the option of moving the plant. Components are skid-mounted with built-in bulkheads for easy setup on level, paved sites without concrete foundations or additional structures.
The entire plant is pre-piped and pre-wired, and it can be up and running in about six weeks.
Astec's relocatable plants also feature the Double Barrel combination drying and mixing drum, as well as Astec's Phoenix Talon high-efficiency aggregate drying burner and New Generation HMA storage silos guaranteed to store mix for four days without loss of mix quality.