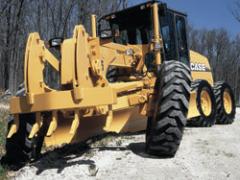 With a flip-up rear hood, rugged and beefy A-frame and moldboard design, best-in-class serviceability and outstanding sightlines to all sides, the Case 800 Series motor graders (Circle 910) provide the performance edge to handle a wide range of conditions.
The Tier 3-certified engines deliver a stronger throttle response at every rpm, improved cold-start capability and reduced noise. They are electronically controlled and fueled through a high-pressure common rail fuel-injection system, providing responsive engine control, greater fuel efficiency and a cleaner burn. Powered by turbocharged six-cylinder Cummins engines, Case motor graders deliver up to 205 net hp and operating speeds up to 27 mph.
Case offers three models of motor graders—the 845 DHP, 865VHP and 885—with a wide array of attachments available for each.