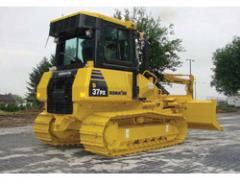 Komatsu America Corp.'s D37EX-22 and D37PX-22 crawler dozers, equipped with Komatsu's proven hydrostatic transmission (HST), are built on the successful design of the D51-22 dozer series and feature a super-slant nose coupled with a new cab-forward design that moves the operator closer to the blade while improving machine balance,
ride and stability.
Outfitted with a fuel-efficient 3.26-liter, EPA Tier III-emissions-certified Komatsu SAAD95LE-5 engine, these models push with a net horsepower of 89 at 2,200 rpm and range in operating weight from 17,394 to 19,070 lb, depending on the machine version. With 88 in. of track on the ground, both standard (EX) and low ground pressure (PX) models offer customers weight distribution and flotation options to best match their application.
The D37-22 steering system provides smooth, agile movement when dozing, even in gradual turns, permitting the operator to approach dozing objects accurately in corner grading and sidewall operations. The D37-22 dozers employ a large power-angle-tilt blade with a capacity of 2.32 to 2.55 cu yd, which results in more material staying on the blade and making it a more productive machine.