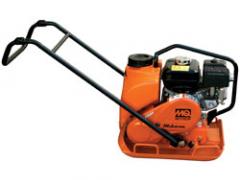 Multiquip introduces the new MVC82 series one-way compactor (Circle 908) specifically designed for the efficient compaction of soil and gravel in trenches, around retaining walls and for any other challenging jobsite application.
The MVC-82 series has an antivibration system (AVS) that reduces vibration to the operator by up to 50%. It is equipped with a flip-over handle and four side-mounted grab handles for easy transport and loading.
It features a solid high-strength steel base plate with curved edges for excellent performance and smooth turns on hot asphalt. These models are powered by a Honda GX-160 or Robin EX-17 engine.
The MCV-82 Series delivers centrifugal forces ranging from 3,080 to 3,450 lb, exciter speeds ranging from 5,600 to 6,000 rpm and speeds up to 72 ft per minute. An optional impact-resistant plastic water tank also is available.