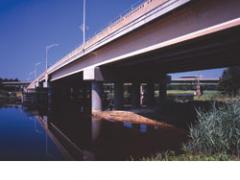 To combat the salt-water environment, the bridge has several durability-increasing features. All beams are made of precast concrete, and high-performance concrete was used throughout the entire structure, from the drilled shafts up to the bridge deck. All concrete has a corrosion inhibitor admixture.
Location: Bass River Twp., N.J.

Cost: $13.6 million

Length: 470 ft

Type: Prestressed concrete

Designer: Hardesty & Hanover

Owner: New Jersey DOT

Contractor: J. Fletcher Creamer & Son Inc.