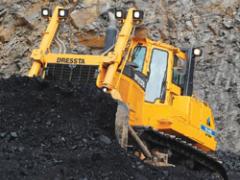 Dressta has introduced the TD-40E Extra crawler dozer featuring a quieter, environmentally friendly Cummins QSK19 Tier III (Circle 922) engine. This new model delivers an enhanced drawbar pull resulting from a higher maximum torque of 1,755 lb-ft, up from the 1,650 lb-ft of the previous model. The new engine delivers 515 net hp at 2,000 rpm. Engine displacement continues at 1,150 cu in. The TD-40E Extra has an operating weight of 136,509 lb and a full U-blade capacity of 29.8 cu yd.
The cooling module has a two-speed fan with a 50-in.-diam. blade to handle the cooling characteristics of the new Tier III engine. The low-speed fan conserves power while providing quieter operation when working with lighter loads or to deliver an extra boost of power for short periods under heavy-load conditions.
Also released with the TD-40E Extra are a gear range preselection system and an automatic downshift function, which offers the operator the choice of various automatic operating modes, especially useful in repetitive cyclical operations.