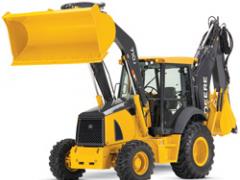 John Deere has added a new PowerTech E 6068 Tier III engine to its 710J backhoe, improving both emissions compliance and power. Deere has the most powerful backhoe available at this size level, so contractors can step up to Tier III engines without sacrificing power, durability or lugging power.
The 710J still provides the greatest dig depth in the industry—reaching up to 22 ft 4 in. when extended. And now a PowerTech E 6068 Tier III engine comes standard on 710J backhoes and provides a slight increase in horsepower and the same heavy-duty six-cylinder torque as on the previous Tier II 710Js.
The new 710J features net horsepower of 126, compared with the 123 hp on the Tier II engines. The high-pressure common-rail fuel system provides higher injection pressures, variable timing and precise control of fuel injection, giving it highly efficient combustion.