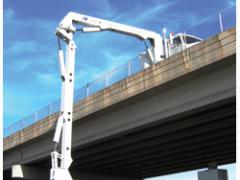 Aspen Aerials Inc., Duluth, Minn., recently announced the introduction of a new model: the Aspen A-62. This multifunctional unit is capable of maneuvering around bridges unlike any other machine and is equipped with the latest technical advances. It has a horizontal reach of 62 ft and requires no outriggers when operating.
The Aspen A-62 is equipped with unique features such as a telescoping fourth boom and a 180° rotating platform, enabling operators to easily get into tight areas behind deep beams. An advanced microprocessor control system is provided with a full color display, depicting unit operation and individual function performance while monitoring the unit's parameters and hydraulics.
The A-62 has several additional features such as the dual-side deployment, which allows the boom to operate from either side of the truck. The A-62 also features a spacious 40-ft x 60-ft platform with a 600-lb capacity that allows up to three individuals to work simultaneously under the bridge. The aluminum platform is equipped with an access gate for safe, easy boarding and fully proportional controls for running all boom and rotation functions.