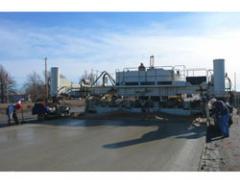 The Terex Series 6 slipform paving kit's (Circle 915) design eliminates the hundreds of nut-and-bolt connections commonly found on conventional kits. Using a simple and proprietary wedge-and-pin locking system, the Series 6 minimizes width change time to maximize paving opportunities.
Further aiding in the reduction of width change time, the vibrator manifolds mount directly to the kit. Featuring quick hose disconnects, this design requires only eight hose connections between the kit and tractor at a 24-ft paving width and reduces hose length by 500 ft.
Kit segments are precision-milled on the sides and bottom in a two-phase process, assuring a tight fit between segments without spacers and enhancing extrusion surface smoothness to optimize finish quality. Featuring the largest finish zone in the industry, the 60-in. profile pan eliminates the dozens of screw adjustments required to align the finish zone of traditional kits, further saving paving crews time.