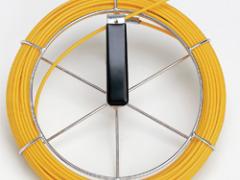 A-D Technologies offers a new handheld Mini-Max Rodder for under-floor cable installations. The portable rodder, which can clip to the user's belt, recoils cable as the user is pulling, allowing for easy withdraw.
The handheld Mini-Max features a lightweight aluminum 12-in. cage that holds up to 130 ft of 3/16-in. rod that can be clipped on the user's belt. The Mini-Max is ideal for installation systems and conduits with nominal diameters of up to 2 in.
The Mini-Max uses Polykat rod, which according to the manufacturer is the strongest and most flexible fiberglass rod compared to other rodders; the Mini-Max fiberglass rod has an 80% fiberglass core compared to 50% fiberglass rods that are on the market. The guide head mounted on the front of the rod easily slips past all cables in the conduit and prevents the rod from snagging on any obstacles.
Both ends of the rod have M5 threads, making it possible to work in both directions. The rod's universal screw connection allows the use of the same accessories as ARNCO's Kati-Blitz premise cable-pulling device.