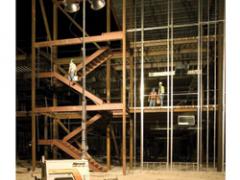 Allmand, Holdrege, Neb., has introduced the reconfigured Night-Lite PRO Series packages, offering geographic-specific features while maintaining reasonable prices. In addition to the standard Night-Lite PRO, Allmand also now offers the Night-Lite PRO International, Night-Lite PRO Arctic Special and Night-Lite PRO CSA Approved.
The International package features two Schuko receptacles and a 6-kW, 220-V, 50-Hz power generator rather than GFCI duplex outlets, to make it suitable for locations outside the U.S.

The Arctic Special package, for cold-weather environments, features an engine block heater, heavy-duty battery with an electric battery blanket, remote oil drain, tubes in the tires and CSA-approved wiring harness. The heavy-duty enclosure with a full floor and 90°-angle air inlet duct prevents blowing snow from entering the cabinet.
With the exception of the international package, all PRO models come with a 6- or 8-kW single-phase 120/240-V, 60-Hz generator. All models feature Allmand's durable SHO lighting system, which produces as much as 50% more light than competitive towers, providing as many as 5,000 watts per tower.
An 1,800-rpm, liquid-cooled diesel engine powers the units, which also feature a glow plug cold-start aid and automatic shutdown for low oil pressure and high engine temperature. A 30-gal polyethylene fuel tank provides up to 60 hours of continuous operation.