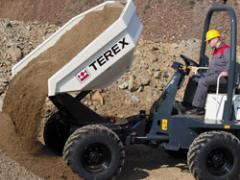 Developed to increase onsite productivity for contractors in Europe, the Terex Power Swivel PS2000, PS3000, PS3500H and PS4000H site dumpers, used for several years on European construction sites, are now available in North America.
All the power swivel site dumper models possess four-wheel drive and articulated steering capabilities, making it a cost-effective solution for efficiently moving material around jobsites. These units offer increased versatility, allowing loads to be rotated 180° from side to side and tipped to accurately place a load. From cramped construction sites and rough terrain to landscaping, nursery and cemetery applications, the new Terex Power Swivel site dumpers are designed to give the operator an exceptional view for moving any material—dirt, clay, sand, stone, concrete, fertilizer and more.
Both the PS2000 and PS3000 employ a 3/1 manual transmission. The PS2000 is powered by a Kubota D1750M, 33-hp diesel engine and has a heaped capacity of 2.2 cu yd and a payload capacity up to 4,409 lb. The PS3000 is designed with a heaped capacity of 2.4 cu yd and a payload capacity of 6,615 lb. The Kubota V2203 diesel engine on the PS3000 is rated at 43 hp. The PS3500H and PS4000H both are designed with 2/2 hydrostatic transmission and permanent four-wheel drive. The PS3500H can handle a heaped capacity of 2.4 cu yd and a maximum payload capacity of 7,716 lb. The PS4000H has the capability to haul a maximum payload of 8,818 lb with a heaped capacity of 3.3 cu yd. A Kubota V2203 43.2-hp diesel engine powers both units. All the power swivel models meet Tier 2 emission requirements.