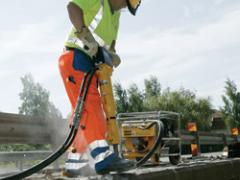 Offering a high power-to-weight ratio, Atlas Copco's line of hydraulic handheld breakers provides an ideal solution for jobs in concrete, asphalt, frozen soil, mortar and brickwork.

The heaviest of the line's standard breakers is the 71-lb LH 39. Able to deliver 110 ft-lb of blow energy at an average impact rate of 1,275 bpm, the LH 39 is one of the world's most powerful handheld breakers. Its power can provide a cost-efficient alternative to rig-mounted breakers for heavy-duty applications in reinforced concrete, heavy asphalt and foundations.
The breaker comes standard with a 1.3-ft hydraulic twin hose, which is complete with screw couplings for connection to the breaker and flat-face quick-release couplings for connection to the power pack hose or to the twin extension hose. An optional oil flow divider and extension hoses are available for running the breakers off hydraulic-powered carriers.