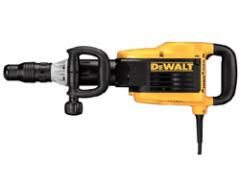 DeWALT, a leading manufacturer of industrial power tools, has announced the launch of its new heavy-duty demolition hammers, D25899K, D25901K and D25941K. These new demolition hammers are designed to provide end users with increased durability, performance, comfort and serviceability on the jobsite. The demolition hammers are designed to perform a wide range of heavy-duty concrete removal applications in the most demanding commercial construction environments.
DeWALT equipped the demolition hammers with spring-loaded dust seals that keep ingress and contaminants from entering the tool, helping to extend the tool's life. A non-air pumping beat piece keeps debris from being vacuumed into the hammer mechanism, preventing contamination of its internal components, also leading to longer tool life.
DeWALT designed the D25901K and the D25941K with a comprehensive electronics package that provides users with the ability to start the tool softly on contact and maintain optimum performance under load throughout any rigorous demolition application. The D25901K also comes equipped with a variable impact control dial (19 settings) that allows the user to match the performance of the tool to the specific application and control the rate of aggregate removal. This new line of demolition hammers is engineered with high-performance, 14- and 15-amp motors. The D25899K and D25901K generate 18.5 ft lb of impact energy, while the D25941K offers 22 ft-lb of impact energy.