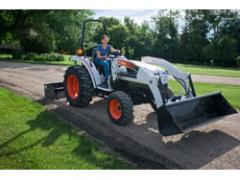 Bobcat Co. has expanded the new line of compact tractors with the introduction of four new models. It also has announced that the Bob-Tach quick attachment mounting system is available as an option on the front-end loader of all Bobcat compact tractors.
The four new models, the CT335, CT440, CT445 and CT450
(Circle 901) , have an independent PTO that can be engaged with the flip of a switch while the tractor is in motion. This feature allows an operator to engage the PTO on a three-point implement only in areas where it is needed. The models have a heavier and larger chassis and higher horsepower for customers who need more power but do not need a machine larger than a compact tractor.
In addition to smoother hook-up of implements on the rear of the tractor, operators will be able to save time hooking up attachments to the front-end loader with Bob-Tach quick attachment mounting system, now available on the front-end loader of all nine Bobcat compact tractor models.
The Bob-Tach system allows operators who need to use multiple front-end attachments to quickly and effortlessly change attachments for maximum productivity. This feature also enables the tractor to perform multiple functions with the front-end loader. Currently, a bucket and pallet forks are available for use on the front-end loader, with additional attachments planned for the future.