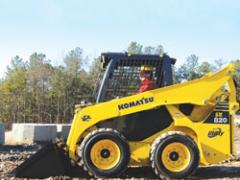 Komatsu's enhanced loader arm and bucket control make the SK820-5 (Circle 910) capable of handling tough conditions without losing power or performance. The machine is equipped with a patented Automatic Power Control (APC)—available throughout Komatsu's entire skid-steer product line—which allows the operator to work at full power during any phase of the job without concern about engine stall-out.
The SK820-5 features a rated operating capacity of 1,900 lb, a tipping load of 3,800 lb and a bucket breakout force of 4,200 lb and 3,530 lb (based on short lip and long lip bucket designs, respectively). The SK820-5 offers optional, fully enclosed cabs with slide-up overhead front doors featuring an expansive entrance, 360° visibility, heating and air conditioning.
With an operating weight of 6,480 lb, the SK820-5 delivers 54 net hp. The turbo-charged and water-cooled direct fuel injection engine meets EPA emissions requirements and remains fuel efficient without sacrificing power or productivity.