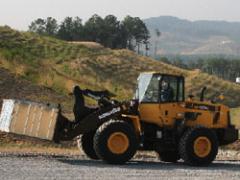 Komatsu America Corp. has announced the WA320PZ-6 wheel loader (Circle 902), which offers improved visibility and increased loading power and performance. Replacing the WA320PT-5, this new machine includes significant technological enhancements for greater performance, operator comfort and efficiency.
The WA320PZ-6, with an operating weight of 32,480 to 33,900 lb and a heaped bucket capacity of 3.25 cu yd to 3.5 cu yd, gets its power and productivity from a Komatsu SAA6D107E-1 engine. This engine, with a net hp of 167, is EPA Tier III-certified and provides high productivity with low fuel consumption and low noise.
The WA320PZ-6 is equipped with the latest KOMTRAX technology, which sends machine operating information to a secure website utilizing wireless technology. Data such as operating hours, location and maintenance alerts are relayed to the web application for analysis. The KOMTRAX fleet monitoring system increases machine availability, reduces the risk of machine theft, allows for remote diagnosis by the distributor and provides a wealth of other information to drive business efficiency and productivity.