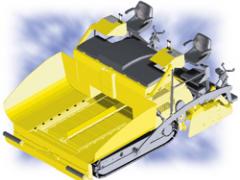 The new BF6615 self-propelled asphalt paver from BOMAG offers the power and capacity that commercial paving contractors need for larger, high-production paving projects.
Weighing in at 20,500 lb, the BF6615 features a 99-hp Cummins water-cooled diesel engine that is turbocharged for consistent power at all altitudes. The engine's ECO-mode feature saves fuel and reduces noise by automatically lowering rpms during stops and pauses. At the same time, an exclusive load-sensing hydraulic system lowers fuel costs by delivering power only when needed.
The newly designed Unimat 2 full-width floating screed has a standard 8-ft to 15-ft paving width. The screed is electrically heated, eliminating the need to change propane bottles in the middle of a large project. Dual vibrators provide 2,500 vibrations per minute.
The generous 9-ton hopper capacity on the BF6615 allows high-production paving to continue between trucks. Even with its power-saving system, the new paver can push asphalt feeder trucks while maintaining working speeds up to 180 ft per minute.