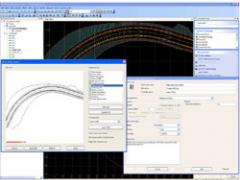 Trimble has introduced Business Center—Heavy Construction Edition (HCE) software. As part of the Trimble Connected Construction Site portfolio of solutions, this new construction-office software is designed to streamline the productivity of construction-site positioning and grade-control operations between the construction head office and the jobsite.
Trimble Business Center—HCE software is developed for the construction professional involved in data-preparation tasks and managing field crew data updates. Contractors can import, review and analyze design information, then assign, manage and track the information through the lifetime of a construction project.
Trimble Business Center—HCE is designed to enhance data provisioning and allow field crews to have more accurate and up-to-date information. The software creates a dynamic link between the project file and one or more handheld controllers running the Trimble SCS900 Site Controller Software on the jobsite. Data is then managed using the unique Trimble Intelligent Data Tracking feature. This feature automatically monitors field crew data and office data for any changes or updates. When a change on either side is detected, the software automatically flags that data for immediate resolution. Data synchronization in the field and office can potentially reduce costly mistakes and rework due to inconsistent data and design-file updates.