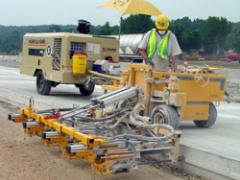 E-Z Drill offers a line of multi-gang slab-rider drills (Circle 912) for accurate concrete drilling from an easily maneuverable machine. The series consists of three self-propelled models: the three-gang Model 210-3 SRA, the four-gang Model 210-4 SRA and the five-gang Model 210-5 SRA.
The compact frame design allows each drill to operate in a 4-ft patch while drilling to within 6 in. of a corner. The bits drill to a standard 18-in. depth, and each unit can be adjusted easily to drill into the center of a 24-in. slab. Adjustable spacing can be set between 12 and 36 in., with greater width settings available through custom orders.
The pneumatic drills, which are powerful enough to tow the air compressor with an optional tow-bar assembly, feature an internal regulator to prevent breakage caused by high-pressure spikes. When used with the tow-bar kit, the SRA models eliminate the need for an additional vehicle. This enables one person to drill, move the machine and tow the compressor, saving on labor and fuel costs. Additionally, a patented tri-steering feature simplifies maneuverability as the machine can rotate within its own radius without needing to be disconnected from the air compressor.