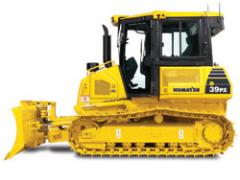 Komatsu's D39EX/PX-22 finish dozer features Komatsu's (Circle 921) proven hydrostatic transmission providing smooth, agile steering while dozing, even in gradual turns, permitting the operator to approach dozing objects accurately in corner grading and sidewall operations. The new dozer's Super-Slant Nose, coupled with a new cab-forward design, moves the operator closer to the blade to increase blade visibility while improving machine balance, ride and stability. The D39-22 dozers employ a large power-angle-tilt blade with a capacity of 2.89 cu yd to 3.01 cu yd, which results in more material staying on the blade and greater productivity.
Designed for general construction, site preparation, home building, forestry and utility applications, the dozer's low center of gravity, wide stance and long track-on-ground provide exceptional productivity, stability and balance. Both the long and LGP models boast extended undercarriage life with large links and large-diameter bushings for reduced undercarriage maintenance costs.
The powerful engine pushes with 105 hp at 2,400 rpm and ranges in operating weight from 20,834 to 21,804 lb, depending on the machine version.
Equipped with the latest Komtrax technology, the dozer sends machine operating information to a secure website utilizing wireless technology. The Komtrax fleet monitoring system increases machine availability, reduces the risk of theft, allows for remote distributor diagnosis and provides a wealth of information for efficiency and productivity.