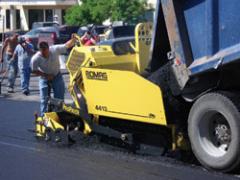 Responing to customer demands for greater performance and productivity, BOMAG, Kewanee, Ill., has introduced the new 4413 self-propelled asphalt paver featuring more engine horsepower, a redesigned undercarriage and improved operator ergonomics. The new 4413 paver is powered by a 60-hp Cummins A Series water-cooled diesel engine that offers approximately 40% more output torque than the engine on the previous model.
The 4413 includes an exclusive load-sensing hydraulic system that saves on fuel consumption by delivering power only when needed. Even with this power-saving system, the new paver can push asphalt feeder trucks while maintaining working speeds up to 160 ft per minute.
The 4413 paver offers paving widths ranging from 8 to 13 ft, making it ideal for driveway, parking lot, asphalt repair and resurfacing applications. Designed to hold up to 7.5 tons of asphalt, the high-capacity hopper provides long operation intervals with fewer refills.