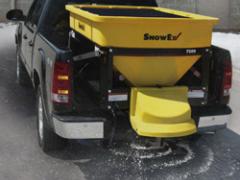 SnowEx, a division of TrynEx International, has introduced the new 7500 bulk spreader. Designed to be an economically priced V-box-style spreader, the 7500 offers all the advantages of polyethylene construction, but at the price of standard steel-constructed alternatives.
Featuring a 1.4-cu-yd material hopper constructed entirely of polyethylene, the 7500 eliminates the corrosion concerns and constant maintenance commonly associated with standard steel V-box alternatives, and it is much lighter. Though the hopper features thick-walled construction, the unit is up to 40% lighter than similar-capacity steel-built options, making it easier to install or remove. Additionally, the 7500 features an exclusive poly enclosure around the spinner assembly, which provides maximum protection for the business end of the spreader while eliminating another potential corrosion concern.
Intended for use in pickups (6-ft beds or larger), the 7500 features the same patented multiangle hopper and inverted-V salt/sand baffle design found throughout the SnowEx line of V-box spreaders. Combined with an attached vibrator, the hopper allows for continuous flow of a multitude of material combinations, from 100% bulk salt to a 50/50 bulk salt to road sand mixture. A new longitudinal auger configuration also reduces potential binding and bridging of materials, further encouraging efficient flow throughout the hopper to the spinner.